CLOSED! WINNER WILL BE ANNOUNCED THIS EVENING (Tues) OR TOMORROW MORNING (Weds)
Aaaaaand it's time for another round of
Bloggy Giveaways
.
"What can I win?" you might ask. Well, I have secured for you a set of Nursery Rhyme block prints: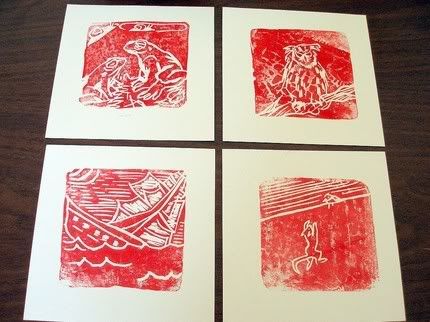 These are the creation of one of my best friends. The description, from
her etsy shop
:
A set of four hand carved linoleum block prints inspired by different nursery rhymes.

"Croak" said the Toad
The Wise Old Owl
The Big Ship Sails on the Ally-ally-oh
Little Robin Redbreast sat Upon a Tree

Printed using red Speedball block printing ink.
On 6"x6" white acid free cardstock.
Image size is 4"x4".

Each print varies because of printing process.

Can be signed and dated on front or back at request of buyer.
Between the two of us we might also throw in some extra small goodies for the winner -- you never know!
Rules:
1) U.S. entrants only, please (shipping ain't cheap)
2) For one entry, check out
my friend's etsy shop
and comment with one item that you like.
3) For a second entry,
visit her website
and mention one thing that caught your eye.
4) For a third entry, you can visit
my

etsy shop
and tell me one item you'd like to own.
That's it; enjoy!
P.S. If you are related to me and need to get in touch with me this week, I'm afraid that's too bad. I will be on the internet :-P