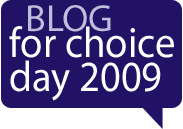 And a very happy
Blog for Choice Day
to you!
This year's topic is
What is your top pro-choice hope for President Obama and/or the new Congress?
Hmm. It's hard to pick just one, but I think I'll go with this -- I hope that it is made

very, very clear

that women (all women) have the right to decide what to do with their bodies. For example, it'd be nice to see an end to things such as the Global Gag Rule and fake crisis pregnancy centers.