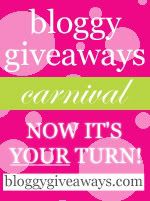 This post is now closed. No new entries will be accepted; winner will be announced Saturday morning.
Welcome, Bloggy Giveaway participants!
Fun stuff first:
I am giving away one item from
my etsy store
! That's right, one of whatever-you-like from my shop. Keep in mind what you'd like; if it sells before the contest is over, I'll make a new one, just for you!
Now, then:
Rules
.
You can earn
two
entries for this contest if you have a blog/website, and
one
if you don't (sorry!).
If you have a website, you can earn one entry by
blogging about either my store or this contest,
and a second entry by
putting up a link or button to my store
(code for the button at the bottom of this post) on the main page of your blog or website. Just leave a comment here showing me where to find your post and/or link!
If you don't have a website, you can earn an entry by leaving some feedback here --
what do you like/dislike/love/hate about my shop
?
Winner will be chosen on Saturday!
Happy blogging :-D
Buttons should look like so: